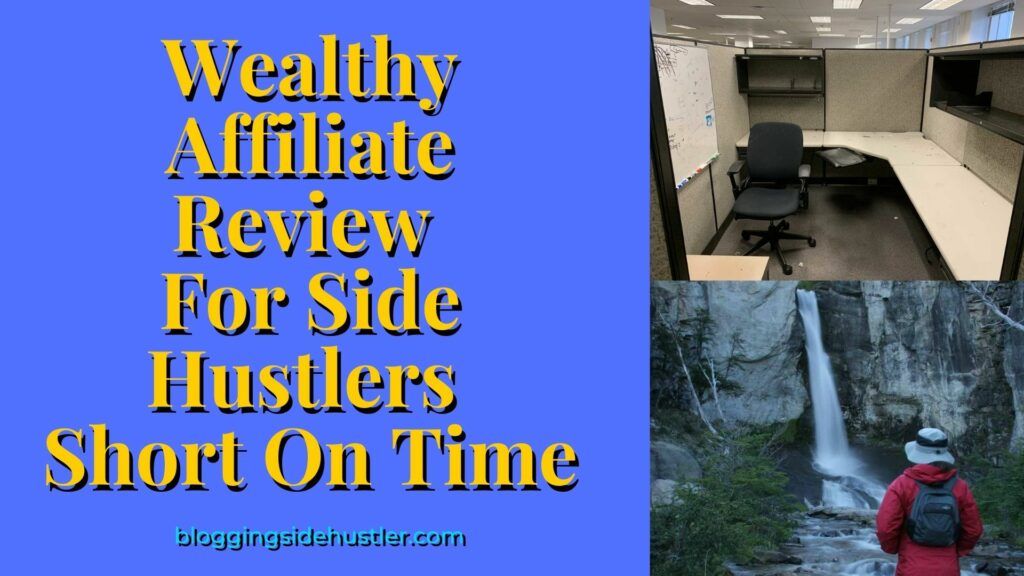 The Wealthy Affiliate Side Hustle is basically running a side business earning an income through a website or blog using the Wealthy Affiliate (or WA for short) platform. WA is an affiliate marketing training platform aiming to help you earn income through your website or blog. This is pretty much right up our alley as blogging side hustlers looking to earn income off our passions.
Like you, I look to continue leveraging my side hustle blogging to not only pay for our travels (our main passion), but to eventually leave the rat race and truly become financially free!
Spoiler Alert!
Wealthy Affiliate Made Me A Proficient Blogging Side Hustler
Find out why in the rest of this article. Or…
Yet in order to earn a healthy side income blogging, you're going to need to be efficient with your time.
After all, you already spend most of your time and energy on your day job (or whatever other commitments you may have).
So the last thing you need is to be wasting time (and money).
Therefore in this review, I leverage my 2 years of experience (so far) using this platform to deep dive into what WA is as well as whether it's effective at helping people to make money blogging as a side hustle.
What Is Wealthy Affiliate About? And Why Use It?
The short answer to what Wealthy Affiliate is and why I'd use it is largely to save time and money so I can get right into spending most of my time on the things I am passionate about.
But let's elaborate on the above claim.
Regarding what WA is, you'd think that with a name like "Wealthy Affiliate", it might induce an eye roll or two.
I don't know about you, but when I see (and hear) the words "affiliate", "marketing", and "make money online", I tend to tune out because I associate them with scams or something that's too good to be true.
However, behind the suspiscious veneer of these niches, at its core, the Wealthy Affiliate platform is really all about training you and giving you the resources needed to build your website or blog.
Once you've established that website or blog, you can then leverage your content to monetize off your helpful knowledge and communications into your own small business.
It's as simple as that!
Just remember that the great irony to blogging as a side hustle is that while side husters don't have much spare time (because we have jobs or other commitments that take up most of it), it takes time and a lot of hard work for our efforts to pay off.
Making money off blogging is for the long term. You need to be patient!
This is especially true since we're side hustling and not doing this full time so the results won't come as quickly.
That said, you'd rather focus your limited time engaging in the aspects of blogging that are fun and interesting (i.e. talking about your passions).
Then, let your work accumulate a passive side income over time as you continue to write content and engage in your passion.
That bit about spending your spare time on your passions is important because it feels less like a chore if you're highly motivated (which is much easier to do if you're passionate about what you're blogging about).
Heck, it's why we're side hustling in the first place, right?
It sure beats getting mired in tricks to game the system in an effort to get rich quick (or at least try to before Google or other search engines catch on).
Given that there are likely other things in life we'd rather be spending most of our lives on than our current commitments, for one reason or another, we've got to make ends meet (and not all of it is of our choosing).
However, this is where Wealthy Affiliate helps you focus on what matters most – spending most of your time immersed in your passions.
I'm sure there are probably alternative platforms out there with tools or training courses that appear to be more effective than the ones that WA provides to its membership.
But through the 15 years that WA has been refining its offerings to members, this platform helps you channel your time and resources into yourself and your own interests rather than getting seduced and sidetracked on chasing costly red herrings.
Interested In Making Your Side Hustle A Reality And Take Control Of Your Life?
Join The Wealthy Affiliate Community For Free And Learn How To Properly Start A Blogging Side Hustle For Free At No Risk To You.
What Exactly Does Wealthy Affiliate Do For My Blogging Side Hustle?
With Wealthy Affiliate, you're saving yourself time and money because you're getting a one-stop platform with all the education and tools you need to make your blogging side hustle successful.
To summarize, the key features within Wealthy Affiliate's integrated platform that have resonated with me are…
education
website hosting (including domain name services, email, and tech support)
community support
keyword research
Granted, this is by no means an exhaustive list of the services and features that WA provides, but as far as getting my side hustle going, these are pretty much all I need.
Education
Wealthy Affiliate's extensive library of education and ongoing new classes are perhaps the platform's main feature.
Within these courses, you're leveraging years of affiliate marketing experience that you can learn and apply directly to your own small business so that you can avoid making the same mistakes that were made before.
And as a result, you'll have your small business up-and-running as well as thriving much more quickly than fumbling your way through and making costly mistakes that could have been avoided with this training.
To give you an idea of what this training entails, when I started my blogging side hustle back in 2006, I learned the value of learning how to write good, thorough content to drive traffic to my site and ultimately leverage that traffic to monetize.
Anybody can create a website, but in order to make money off of that website, you'll want to learn how to mature your website effectively, and that's what the affiliate marketing education accomplishes.
Granted, I did my initial affiliate marketing training through a different platform than Wealthy Affiliate, but this experience put me in a position to better appreciate the education that I ultimately discovered that Wealthy Affiliate offered.
At its core, the way people make money from blogging pretty much boils down to this chart…
Wealthy Affiliate's training and classes pretty much tackle various aspects of the affiliate marketing process shown in the drawing above.
As far as how much of the education you get to access, there are three different membership levels – starter, premium, and premium plus.
For the free starter membership, you get access to the first 10 lessons (i.e. Level 1) of the Online Entrepreneur Certification (OEC) course.
Although this is only 20% of the 5 levels of the entire OEC training (50 lessons total), you still get to learn…
the process of how to make money online
how to choose a topic (or niche) that you want to base your website or blog around
how to set up a website based on the niche of your choosing
how to create content for that website or blog
what keywords are and how to use them for your website content
You also get the first 10 of 70 lessons (1st phase out of 7) of the Affiliate Boot Camp (ABC) Training, but I'd recommend you start off with the OEC training so you can focus on your passions first and foremost.
The Affiliate Boot Camp training is specific for the make money online niche, which you may or may not be passionate about, especially as you're starting out.
For the premium membership, you get all the training modules for both the OEC course and the ABC course (including the introductory lessons from the free starter membership).
In addition premium members get at least 52 (once per week) live classes taught by Jay Neill, who is the primary live training coach within the WA community, as well as some from WA-cofounder Kyle Loudoun.
The live classes cover a wide range of topics like…
How to perform SEO organically
How to brainstorm for your niche
How to set up and extract useful analysis from Google Analytics
How to write content that converts
and many more topics
By the way, these live training classes can also be replayed as many times as you'd like so you get to learn at your own pace and on your own schedule.
Of course, attending the live classes in real-time allows you to ask questions that get answered during the course.
Furthermore, premium members can private message specific members, which allows for very specific personal coaching (assuming the person you're seeking advice from has the time to help you along in such a personal manner). Starter members can get personal coaching, but it's in a wider community forum.
Finally, the premium plus membership includes all the educational resources in WA's vast library of training and live classes from various experts who are among WA's most successful ambassadors.
This includes…
Live classes that goes into specific tactics that have worked for the top ambassadors sharing their techniques and knowledge (going beyond Jay's training and some of the cofounder Kyle's basic training)
Classes that cover timely topics like mastering YouTube, Instagram, Pinterest, Canva, Advanced Keyword and Niche Research, in-depth how-tos for particular tools (i.e. themes, plugins, apps, etc.) to really amp up productivity, etc.
With this level of membership, you're pretty much all in on everything WA has to offer to help you learn how to be effective at your side hustle in as quickly as you're comfortable with.
Indeed, I find that the education found at Wealthy Affiliate to be second-to-none, and I'd argue that all this training material alone is worth the price of membership.
Website Hosting
In addition to the education, Wealthy Affiliate provides web hosting so you don't have to spend time and money getting nickel-and-dimed on the various services provided by web hosts.
Just to give you an idea of what WA's web hosting provides, here's a list of key features…
Starters get 1 website, Premium Members get 10 premium websites, and Premium Plus Members get 50 premium websites
Website builder in the WA platform that's integrated with WordPress

Site Content "notepad" complete with templates to help channel your thoughts into keyword-rich content, affiliate disclosures, privacy policy, About page, etc.
Includes duplicate content checker
Website engagement via Site Comments
24/7 Site Support

Instant domain name registration and WordPress website starter

Email using custom domain name
Privacy included
SSL included (i.e. the https in your web address)

DDos Protection
Premium Members get dedicated server resources of up to 250k monthly visits (up to 1M monthly visits for Premium Plus Members)
Before I learned about WA, I had migrated my waterfalls website out of a non-WordPress platform and into my own mish-mash of a-la-carte web hosting services (i.e. Kinsta Host, Digital Ocean staging, GoDaddy DNS, Sucuri WAF, Amazon AWS, etc.).
I can tell you straight up that this was both time consuming and costly (though it did give me a level of freedom and independence that is uncommon for most blogs, which requires some technical under-the-hood skills).
Just to give you an idea of what it cost me, I spent…
3 years doing the painful migration of 12 years of content (at the time)
I ran two websites (one on the old platform so it's not down during the migration and one on the new platform) during the migration
I am spending at least $200 per month on dedicated web hosting through Kinsta (not counting overages for high monthly traffic beyond my quota)
I am spending well over $200 per year getting nickel-and-dimed on GoDaddy services like email, domain names, SSL, and privacy among other things (and they're always trying to upsell me)
I spend $15 per month on basic hosting so I can stage my website on Digital Ocean for under-the-hood changes and updates before going live with them
I spend at least $10 per month on the Sucuri web application firewall (WAF) as an added layer of security to thwart hackers and other bad actors
I spend at least $50 per month on Amazon AWS, which includes Cloudfront, Route53, and S3 storage, among other things
At least $5000 on cumulative expenses hiring help for web design and web development through Codeable
If you compare what I'm spending (or have spent so far) for my waterfalls website versus what I'm spending for my Wealthy Affiliate websites (I've got at least 2 active ones so far), you'll see that it's far less expensive and more efficient to just go with the all-in-one WA solution.
In fact, WA goes through great pains to keep the technical stuff under-the-hood for the majority of its membership so you can just focus on creating content and minimize the distractions from everything else.
If there are technical problems with your premium website, then you can contact Site Support 24/7 from within the Live Chat or Messenger in the WA platform (starter members get limited access to support).
Site Support can also help with other under-the-hood matters like updating the .htaccess file or wp-config.php file for specific rules you'd like to impose.
Same goes for ads.txt, robots.txt, or site maps, child themes, recovery from backups, or other system administration tasks that might be a bit daunting for those unfamiliar with the under-the-hood workings of WordPress.
Speaking of support…
Community Support
Another major strong point of the Wealthy Affiliate platform is the active and thriving community within its membership. As a WA Member, you should never feel like you're not supported.
Why?
The main attribute that I find to be of great benefit for myself as a member is that this community is willing to pay it forward and jump at answering questions as they're posed in the community.
In fact, I've learned quite a bit from other members simply by posing questions to the community.
I even learned from one of the members about a plugin's shortcomings after publishing a training module about hacking that plugin to get it working with Google Analytics without upgrading to a premium version of it.
Granted, some of these answers can be hit and miss (as you can imagine there are various levels of member experience), but such a supportive environment is vital to being successful at earning a side income blogging and beyond.
You know the saying, "it takes a village to raise a child?"
Well, in WA, your "baby" is your website or blog, and while it can be overwhelming at times to mature your site, often times you get stuck and can call on help from the community who can provide answers or at least point you in the right direction.
Indeed, success at blogging doesn't happen by itself.
You still have to find a topic you want to blog about (even better if it's your passion), get out of your comfort zone, and make your success happen with your own effort.
But having a community to support you can mean the difference between going it alone (and giving up when you hit a seemingly insurmountable roadblock) or to get over the obstacles with help from others in the community.
Speaking of support, if you sign up for the starter membership, by clicking through this review, I can be your coach within the WA community should you want my help though I'm sure others will also pitch in to help you on your journey.
I know how hard and overwhelming it can be given my painful history with hosting my waterfalls website, so I'm willing to help get you on your feet as a blogger to save you from the pain that I went through.
Worried About Being Overwhelmed In Your Blogging Journey?
Join The Wealthy Affiliate Community For Free And Allow Me To Be Your Support Coach
Keyword Research
While you can spend a lot of time writing great content, it still may not get seen if people aren't searching for answers about what you've written your content on.
Therefore, as far as creating your niche website and creating content for it, you'll really want to do keyword research so you don't waste time writing something not many people will read (let alone see).
At the end of the day, you're only going to get traffic if you help people with whatever needs they're seeking answers for.
So how do you know what to give people what they're looking for?
That's where keyword research comes in.
It's essentially extracting data collected by Google (or other search engines offering analytical data) so you can use that research to better inform you of what content you should be creating to meet the demands of your audience.
You can also use this research to brainstorm new topics to write about should you run into writer's block or run out of content to write about.
Speaking of the keyword research tool, Wealthy Affiliate comes with the Jaaxy Research tool, which is integrated within the WA platform.
Among the tools features, include…
30 keyword searches and affiliate program search for starter members, unlimited keyword searches for premium and premium plus members
Competition analysis (manual for premium members, automated for premium plus members)
Saved keyword lists to better organize your research (up to 30 [TBR] for premium members, unlimited for premium plus members)
Alphabet Soup for brainstorming keyword ideas to target for premium (390 results) and premium plus members (1300 results)
Alphabet Soup X real-time brainstormer for premium plus members
Site Rankings to see how well your website is ranked for specific keywords
Analysis to see what keywords your competitors are ranking for
Affiliate searches for premium members (with merchant communications for premium plus members)
Domain Name availability searches (manual for premium mebers, automated for premium plus members)
Indeed, keyword research is actually one of the more elusive topics that I really struggled with for most of the years that I've been working on my waterfalls website since 2006.
However, it was through tools like Jaaxy along with the training on how best to use this tool did I finally start to understand how to perform keyword research effectively to better funnel my efforts towards success in getting ranked as well as conversions.
How Much Does Wealthy Affiliate Cost?
Wealthy Affiliate saves you money (as well as time) so let's quantify the cost to join Wealthy Affiliate.
There are three different membership levels.
The starter membership is free ($0)
The premium membership costs $49 per month
The premium plus membership costs $99 per month
The following table breaks down what you get with each of the membership levels.
In addition to the cost of membership, there is also a cost to secure your domain name, which starts at $14.99 per year.
While this includes email, SSL (so your site is https), whois privacy, etc., you'll need to upgrade to premium to have your website be hosted under this custom domain name.
Another catch with paid membership fees is that you need to keep your subscription going or else you lose access to your content.
Therefore, I'd start with a premium membership once you're ready to graduate from the starter membership, and then you can go up to premium plus once you're comfortable with the WA platform and how to successfully blog in general.
What's Up With All The Scam Allegations & Negative Reviews?
If you do a Google search on "wealthy affiliate" or "wealthy affiliate review", you're undoubtedly going to come across a lot of reviews on either extreme…
It's a scam or not a good product, or…
It's the greatest thing since sliced bread
The truth is usually somewhere in between these extremes, so I thought I'd devote this section to deep dive into each of the major allegations or complaints called out in the negative reviews.
Most Make Money Online (MMO) Reviews Employ The Swerve Tactic
A common tactic that I've seen in the affiliate marketing (or MMO, make money online) niche is to write a review about a product or service, and then swerve at the end of the review to the desired product being pitched.
For example, there could be a review educating you about some MMO product or service, and then in the conclusion, they'll hit you with an attractive alternative, which is the very product that the reviewer affiliates with.
I've seen it go both ways – where the swerve goes to Wealthy Affiliate as well as where the swerve goes away from Wealthy Affiliate to a competitor.
If you see a review calling Wealthy Affiliate a scam or really slamming it based on a few days of (guerilla) research, then chances are they're using WA to swerve you towards the reviewer's affiliate.
By the way, by "guerilla" research, I'm referring to a practice of signing up for the free tier or devoting some money for a short period of time with the sole intent of collecting data to feed whatever narrative to talk up their intended affiliation.
Heck, I've seen the same techniques happen in the late 2000s and 2010s when I was using the Solo Build It Platform (I had used them for 12 years) when I didn't even know about Wealthy Affiliate.
By the way, Solo Build It is an all-in-one affiliate marketing education and web hosting platform similar to what Wealthy Affiliate does except its content management system is not based on WordPress.
So calling one product a scam versus another is hardly anything new, and the search analytics show that the word "scam" gets our attention.
I suspect it's why you see lots of reviews with claims and allegations about any product to be swerved away from.
In the case of Wealthy Affiliate, they must be doing something right because they've been around since 2005, and you tend to see more scam allegations against the more successful companies.
Case in point, Solo Build It was in this position in the late 2000s before it fell out of favor as WordPress accelerated in popularity, and then you stopped seeing SBI scam reviews.
So if you continue to see WA scam reviews, chances are that WA is still doing well and so it'll continue to be a swerve target.
Now that you have a better idea of the swerve tactic that is so prevalent in the MMO niche, let's get into the particular complaints for the rest of this section.
Wealthy Affiliate Is A Pyramid Scheme Or Multi-Level Marketing (MLM) Scheme
One of the most common complaints about Wealthy Affiliate is that it's a pyramid scheme, Ponzi scheme, multi-level marketing (MLM) scheme, or it has elements of the above.
So let's first address what each of these terms are (I certainly needed to look it up).
According to Wikipedia, "A pyramid scheme is a business model that recruits members via a promise of payments or services for enrolling others into the scheme, rather than supplying investments or sale of products."
Wikipedia also said, "Pyramid schemes are based on network marketing, where each person in the pyramid is tasked with bringing in their own subordinates and in turn profiting from their sales or recruitments… In a Ponzi scheme, however, participants are promised returns on 'investments', …, but are actually paid for by new investors, while a central leading figure takes a portion as profit."
Finally, according to the US Federal Trade Commission, "legitimate MLM businesses, unlike pyramid schemes, have a genuine product to sell."
So what is Wealthy Affiliate doing that causes people to accuse them of one or more of the above?
First, Wealthy Affiliate does have a lucrative affiliate program with a lifetime cookie as well as an over 40% commission.
Naturally, this incentivizes people to want to recruit people to the WA platform to earn such commissions.
At first glance, this might seem like a pyramid scheme (or at least an MLM scheme), especially if applied with a disingenuous intent to gain more referrals, pocketing the commissions, and then not pay it forward by helping the new recruits.
However, you are under no obligation to promote Weathy Affiliate to earn money on your blog.
I can't vouch for what other WA members may be doing to attract new members, but in my case, I'm side hustling about something I'm passionate about like waterfalls and I've found Wealthy Affiliate to be helpful in my blogging side hustle efforts.
As a result of my positive experience with Wealthy Affiliate, I don't mind sharing how this platform has helped my efforts so that it might help people start up their own side hustle (and offer to coach them) so they can live their best lives possible.
You only have to pay to be a premium or premium plus member as well as any domain name service (DNS) fees if you choose to register your domain name with WA.
There are no additional costs beyond the ongoing membership dues and DNS fees.
Nevertheless, I think as long as you're positioning yourself to help others, I don't see anything wrong with promoting the tool that helped you (and potentially others) realize the same kind of success or better!
Inferior Tools
There are claims that WA has a best-in-class web hosting service in terms of performance and features as well as best-in-class keyword research tools.
That said, I can definitely see why competitors would pick apart these claims.
First, regarding the web hosting performance (i.e. site speed, outage times, security, etc.), I know for certain that the web hosting for the starter membership is not as good as dedicated hosting services like what you'd get with Kinsta.
In fact, WA hosts numerous websites for free with those starter memberships, and thus, it can't possibly support all the websites it hosts on limited computing resources without making its members share such resources.
That said, if you upgrade to premium or premium plus, then I suspect that they dedicate computing resources to your websites since I notice they have monthly visit quotas (250k per month for premium and 1M per month for premium plus).
While you can't get the kind of freedoms that you would if your website was hosted on say Kinsta or BlueHost or some other dedicated web hosting provider (e.g. accessing the command line, directly editing the mySql database, and other advanced system administration tasks), the vast majority of people wouldn't even want to bother with those things as degree of technical know-how for such tasks are outside of the scope of most of WA's membership roster .
Instead, WA would prefer that you fulfill all your website needs through the use of themes and plugins with some limited FTPing for the more "advanced" under-the-hood tasks that can be fulfilled by Site Support.
So in that sense, I guess you can say that the web hosting is restrictive and limiting, but if the name of the game is to get your side hustle up and running so you can concentrate on providing good content, then it's really not a big deal.
Second, regarding the keyword research tools, you can argue that there are more tools that are superior to the included Jaaxy tool, which all members get access to (though with varying capabilities).
In fact, I've seen the WA Live Training Coach use Ahrefs to perform advanced keyword research on existing websites when he puts them on the Hot Seat (so the viewers can see him critique a site in real-time).
That said, as far as what a side hustler needs to get his/her blog going without becoming an SEO industry insider or beta tester, Jaaxy is sufficient for the needs of the vast majority of its members.
The bottom line is that with the tools that WA includes, it is optimized to save you time and money so you can get right into learning and doing, which in turn lets you get into business for yourself quickly and efficiently.
Sure the individual tools when taken one-by-one may not be the absolute best, but often times you don't need your tools to be that feature rich to be successful.
You just need it to be good enough to get what you need out of it and to make your job easier – don't get into SOS (shiny object syndrome).
This is kind of analogous to building your own computer from scratch versus buying a pre-made one.
Sure you could get the best graphics card, the fastest CPU, the best RAM, the best SSD drives, the best motherboard, power supply, etc., and then put them all together yourself (crossing your fingers that they're all compatible with each other).
Or, you could just buy a pre-made machine where they worked out the compatibilities and save you time from having to procure, build, and test that computer (as well as saving you money due to economies of scale)!
Indeed, side hustlers don't have time to find all these tools and delve into the conflicting reviews of what tools are best for particular jobs.
In my experience, it's better to just have a set of tools that gets the job done and move on…
No need to fall for shiny object syndrome.
Finally, if I'm not comfortable having my already existing website served up by Wealthy Affiliate, I don't have to.
In fact, my waterfalls website is not hosted on WA, but I certainly apply what I'm learning from the courses here to that website.
Similarly, you don't have to start a new website within the WA hosting resources, but you can certainly apply what you're learning here to that website.
The only disadvantage to not having the website hosted on WA is that you don't get the level of integration, where features like Site Content, Site Domains, and Site Comments, among others, won't be able to work as intended.
Outdated Training
Another criticism of Wealthy Affiliate is this notion that their training is outdated.
While it's easy to pick apart training where the screenshots or videos may not exactly match what you're seeing in the latest versions of the WA platform let alone WordPress themes and plugins, it's more important to focus on the principles of what is being taught.
WA's training advocates being helpful to your audience by providing thorough content as well as active engagement with the audience should they make comments on the site or try to engage you on the socials.
Regardless of what Google algorithm updates come up, this is the one principle that never goes out of style (as it shouldn't).
As long as you're helpful, Google will reward you eventually, but even more important than that, the people reacting positively to your content will eventually cause Google to reward you as well.
Now regarding whether the training is outdated or not based on what has been taught in past classes (all of which can be replayed, by the way), there are features and tools that come and go.
Take Google+ for instance. There are old training modules as well as "live" classes on using Google+ to drive traffic.
In fact, I have even gone way back in time and watched some training that was over 10 years old!
Of course, as new training classes pop up (there are new ones every week, especially in the Premium Plus membership), there are new best practices that keep up with the times.
For example, there's @EricCantu and @BenjisDad (premium plus experts who have given live training classes) teaching you how to be successful at YouTube.
There's also @VitaliyG (another expert who gives live classes) teaching you how to use Canva effectively while also demonstrating how you can still successfully blog in an "overcrowded" or "saturated" niche.
Of course, Jay's weekly training (@magistudios) for Premium members and above covers such a wide range of topics, and even his class contents have evolved with time.
Heck, even the tools can change (e.g. towards the end of 2021, WA went away from All-in-One SEO plugin in favor of SEO Framework) so the training eventually updates to reflect such changes.
Another tool update has been the introduction of Alphabet Soup X, which caused some of the classes and training modules to explain how this recent addition to WA's keyword research arsenal can be exploited towards your own website or blog.
Then, there are some community contributions to the training library within the WA platform, and not all of them are live videos taught by WA's most successful ambassadors. In fact, many of them may show up even before a more formal live class is taught.
Overpromising
Finally, there's the criticism that the community within WA can make it seem like making money in affiliate marketing is easier than what the reality actually dictates.
I definitely have seen the community chatter that constantly is bombarded with success post after success post, and it can certainly put the pressure on in terms of looking at yourself and wondering what you're doing wrong.
And while such posts and communications can be distracting (I know I try to tune them out when I'm trying to concentrate on what I need to get done), you have to realize that some people use the WA blogs to document their journey.
I know I started doing this for my latest blog where I'm walking through the Affiliate Boot Camp course, because I want to see for myself how long it takes before I start to see results as I progress through the course step-by-step and go back to basics.
The thing is that everyone has a particular situation and circumstance, and not everyone learns and applies WA's platform and education with the same success.
In fact, just getting into affiliate marketing through WA is no guarantee of success.
And speaking of results, some people are working at affiliate marketing full time while others are like me and doing this as a side hustle.
Naturally, those who are devoting more time to their websites will likely see results much faster than those who have to do it as a side hustle (let alone those who work at it only leisurely or occasionally).
Nevertheless, not everyone can go at this full time, and that's why you really have to come at this with the mindset that you're in it for the long haul.
That way, you can keep pecking away at the countless number of tasks you're responsible for in order to achieve whatever measure of success you're pursuing.
To further the long-haul mentality, none of the trainings taught by Kyle, Jay, or any of the Premium Plus coaches have overpromised results though I have noticed that my level of success (let alone the rate of conversions) didn't approach the numbers I've been seeing of what was revealed.
Indeed, while you have training and resources at WA to help you become successful, there's also YOU.
YOU have to be responsible for your own site's progress.
YOU have to absorb the education and reinforce your learning by DOING.
YOU have to establish the habits to consistently work at your blog.
No one else is going to do it for you, and neither should you expect results without your active PARTICIPATION.
Nobody said this is going to be easy, but I can say that Wealthy Affiliate's platform will definitely steer you in the right direction.
It not only helped to revive my stagnating waterfalls website (which had been going sideways for a period of about 5 years before I found out about WA and started applying my WA teachings).
So I know the principles being taught within WA's Education are definitely solid.
After all, if they've been around for 15+ years and still going strong, then they must be doing something right!
Wealthy Affiliate Pros & Cons
With so much being said about the Wealthy Affiliate platform's merits, I thought I'd condense the good and the bad that I've identified throughout my blogging side hustling journey with WA.
| | |
| --- | --- |
| PROS | CONS |
| Fast Track To Monetization With Extensive and Up-to-date Training and Live Classes covering all things Blogging and Affiliate Marketing | Internal WA Ranking Can Be Gamed, Which Undermines Quality Of Communications In The Community |
| Save Time And Money With Integrated Tools for quickly setting up the website, composing content, keyword research, instant DNS, and engagement | Information Overload Can Be Overwhelming, Especially When Starting Out |
| Stay On Track With Support From A Highly Active Community Willing To Pay It Forward | Limited Freedom To Perform Advanced Tasks For Sites Hosted On Wealthy Affiliate Platform |
| Flexibility To Apply WA's Education Even For Websites Not Hosted On The WA Platform | Making Money Blogging Takes A Lot Of Time; Must Be Persistent And Not Give Up (It Took Me A Couple Years To Earn Consistent Side Hustle Income) |
| Personal One-on-One Coaching And Support | WA Membership (i.e. Paying Fees) Must Be Maintained Or Else Lose Access To Your Work |
| Allows You To Build Multiple Websites So You Can Diversify Your Passive Income Sources | |
| Free Starter Account Giving You A Sneak Peak Of The Wealthy Affiliate Platform Including Basic Training And Free Website To Practice What You're Learning | |
Final Thoughts + Special BONUS!
I hope you've found this Wealthy Affiliate Review useful if you're still deciding whether to commit to living your best life possible by getting into blogging as a side hustle.
Like with anything in this world, you can only learn and get better at something by doing, and blogging is no different.
Wealthy Affiliate gives you that platform to quickly get to the doing, while also having the educational resources to learn how to do it well.
So take the first steps towards your side hustling endeavors through blogging by signing up for the free starter membership at Wealthy Affiliate and see for yourself if you're up for doing this.
Click Here To Test Drive Wealthy Affiliate For Free.
How To Claim Your Bonus…
When you set up your FREE Starter Account, you will receive a special bonus offer should you decide to become a PREMIUM member in the first 7 days (including a 59% discount).
Upon joining the free starter membership, I will be in touch with you within the first hour.
Once in there, promise me one thing… that you will set up your account. It's quite simple to do, and you'll be walked through the process every step of the way upon becoming a member.
You'll have me as your personal support coach, and I'll also share with you the mentors who have helped me in my journey.
That's all I have to say, but I'd like to hear your thoughts.
What questions do you have?
What comments would you like to share?
What have you heard or seen about Wealthy Affiliate that you'd like to ask me about?
Have you had painful experiences so far where you've paid to go through training or programs yet have little luck attaining that elusive success?
Leave your questions and comments in the section below and I'll be glad to get back to you. I look forward to hear from you.