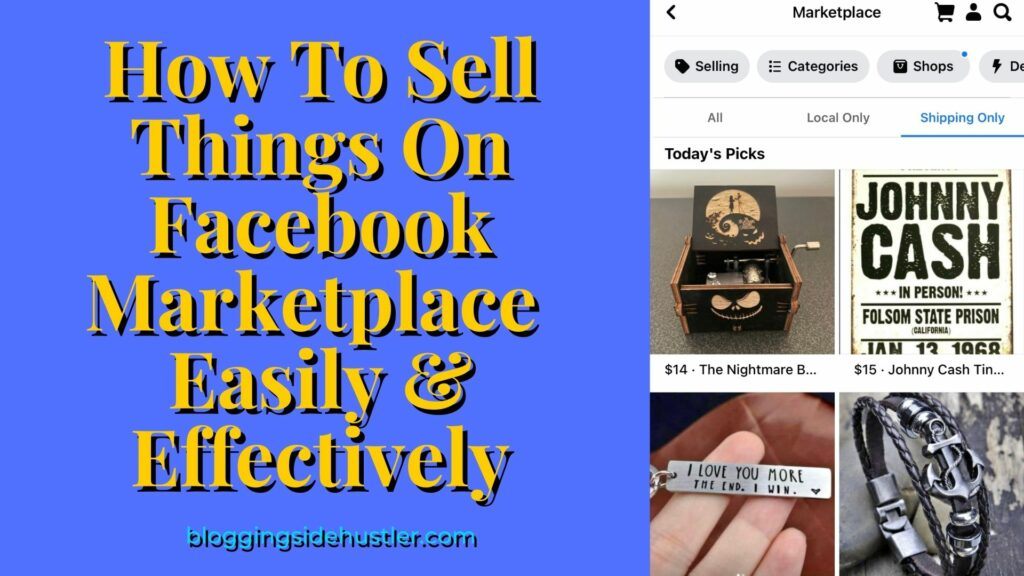 In this article I'll show you how to sell things on Facebook Marketplace easily and effectively. It is based on how my wife has been able to follow some simple steps to enable us to sell our used items to at least get back some money from them.
It has been pretty good in terms of getting paid for stuff that was just collecting dust, and you'd be surprised with what people are willing to buy.
There were things like a garbage disposal and sinks that we never expected to sell, but they did.
And even if there are some items that wouldn't sell (in which we'd assume no risk because Facebook Marketplace doesn't charge a listing fee for local pick up), we always have a fallback in that we could donate the non-selling unwanted items to charity and possibly get a tax write-off from it.
So either way, we stand to benefit from decluttering the home, but with Facebook Marketplace, at least we can earn some unexpected side income out of it.
In any case, let's get into our motivations for using Facebook Marketplace, and then get into how we manage to sell our stuff with this online selling platform…
Why Sell Things On Facebook Marketplace?
It drives us crazy when the garage starts to fill up with things that we no longer use, or the guest room gets filled with boxes of clothes we no longer wear.
That said, rather than donate the items to Goodwill or Salvation Army, selling things online is a great way to declutter our home of things we no longer need and make some money doing so.
That said, why is selling our stuff on Facebook Marketplace preferable to say Ebay or Amazon or other competitors?
Well, we like to use Facebook Marketplace for the following reasons:
has higher success rates compared to similar selling apps
it's free to list for local pickup
has lower selling fees for shipping orders
it's efficient and provides good metrics
it's easy to use (and continues to improve)
Higher Success Rates
In my wife's experience, Facebook Marketplace has been more successful compared to other online marketplaces.
For example, Julie tried Offer Up and found that it was not nearly as successful compared to Facebook Marketplace.
The reason for this is that there are fewer users on Offer Up (which has 20 million active users compared to 2.8 billion active users on Facebook).
Moreover, Facebook's user base are all both buyers and sellers, and each of them have public profiles so they're essentially "qualified".
In fact, with Facebook Marketplace, you can learn more about the buyer or seller by simply looking at the public parts of their profile so you get a better sense of who you're selling to or buying from.
Compare that to say Offer Up, Ebay, Amazon, or other online marketplaces where you have to establish a reputation (which takes a lot of time) for your own brand in a totally separate system.
What happens if these services go under or their user base starts to diminish?
Does that mean all that work you've done to establish your reputation for your user account on Ebay or Amazon goes to waste?
Lower Cost Of Doing Business
As far as the cost of doing business on Facebook Marketplace, we learned that it costs less here compared to its competitors.
Facebook Marketplace does not charge a seller or listing fee if you sell locally (i.e. you don't ship your product).
And if you do have to ship your product (to reach a wider range of prospective buyers), Facebook Marketplace charges a 5% seller fee.
As far as competitor's listing fees are concerned…
Offer Up charged 12.9% listing fees for shipped orders
Ebay has an insertion fee (free for the first 250 listings per month then $0.35 per listing) plus a scaled fee structure that Ebay takes from your proceeds depending on the category of item being sold

12.55% for most categories from records, motors, etc. up to $7500 per item
15% for clothing, shoes, and accessories up to $2000 per item
15% for jewelry and watches up to $1000 per item
12.35% for sports memorabilia up to $7500 per item
You can see the rest of their fee structure here.

Amazon has a combination of selling plans ($0.99 per item sold for individual sellers or $39.99 per month for professional sellers) plus additional category-dependent selling fees (see below) and fulfillment fees as well as other optional fees

15% plus $0.30 generally for most items
15% + $1.80 closing fee for books with $0.30 minimum
8% with $0.30 minimum for camera, photo, and cell phone devices
17% with $0.30 minimum for clothing and accessories (not including shoes, handbags, and sunglasses)
15% for collectibles up to $100
15% for electronics accessories up to $100
You can see the rest of their referral fee structure here.
In the cases of Ebay and Amazon, the fees listed above have given us the impression that they cater more to professional sellers because the fees reduce for higher volumes of sales and/or higher-priced items.
Efficiency & Good Metrics/Analytics
In addition to Facebook Marketplace's high visibility and low selling fees (if applicable for shipping orders), they also give you metrics that you can use to see what's working.
For example, among the metrics they provide, they allow you to see how many people have seen your posts.
The system has also become more efficient over the years as they've recently allowed you to track the status of each order.
Such analytics helps you identify what's selling, what's working in your ad campaign, and what you can do to either keep trying to push the item or to cut your losses (with your time and effort) and send to Goodwill.
Easy To Set Up & Use
Finally, in terms of ease of use, we'll spell that out in how we managed to set up Facebook Marketplace and immediately get to selling in X steps.
What Things Should I Sell On Facebook Marketplace?
Generally, Facebook Marketplace for small-time individual sellers or side hustlers are great for selling second-hand or used items as well as maybe unused, unwanted items that may be collecting dust.
We've had a lot of success selling the following items:
Regarding the clothing, we've had a lot of success selling our daughter's stuff since she outgrows them and they've seen limited use.
As far as toys are concerned, we had alot of success selling Disney, Barbie and LOL toys my daughter were no longer interested in.
We've also had some success selling larger and/or more expensive items like a large dollhouse, a large fake plant, a car seat, and even a camera lens for a Sony Mirrorless camera (in addition to the garbage disposal and sink mentioned earlier).
That said, such items are not eligible for shipping and only sold via local pickup (where you meet your buyer in person and exchange the item being sold with cash or other form of payment on the spot).
Regarding local pickup, it came with a risk that people often flake out (without communicating), which can cost us a lot of time (in setting up the meetings, following up, doing the meetings, etc.).
On the plus side, Facebook does not charge a commission for local pick ups.
There's also a limitation for Facebook Marketplace in that they don't allow you to list the following items:
Adult Products
Alcohol
Body Parts and Fluids
Digital Media, Subscriptions, and Electronic Devices Facilitating or Encouraging Streaming Digital Content
Hazardous Goods and Materials (e.g. guns, explosives, hazardous materials)
Ingestible Supplements
Jobs
Land, Animals, and Animal Products
Medical and Healthcare Products (including drugs)
Services
Recalled Products
Stolen Goods
Tobacco Products and Related Paraphernalia
Used Cosmetics
For a full list, see the Facebook Marketplace policy
Now that you have a better idea of how we've used Facebook Marketplace, let's get into how you can do the same.
How To Sell Things On Facebook Marketplace?
We've broken down the task of selling stuff on Facebook Marketplace into small, actionable steps.
So here are these steps with accompanying screenshots and explanations…
Step 1: Set Up A Facebook Account
Most people have Facebook accounts, but if you haven't done so already, you might want to set one up since it's free.
All you have to do is to go to facebook.com/reg and fill in their prompts, which ask you to provide
The name you go by in everyday life
Your email or mobile phone number
Your gender and date of birth
Your password
Once the information is provided, you'll then need to finish creating your account by confirming your email or mobile number.
Step 2: Download The Facebook App On Your Phone
You don't necessarily have to list your items to sell (or buy) on Facebook Marketplace using your smart phone.
However, we've found it much easier to take photos on the phone, and then directly upload it to the Facebook app.
Once there, it's very straightforward to use the photos on the Facebook app in the Facebook Marketplace to show the product to be listed.
Step 3: Login To Facebook & Click On The Marketplace Icon
After going through Step 1, you should have your Facebook account set up by now.
Therefore, you can login to Facebook and the Marketplace option will appear in your menu as shown in the screenshot above.
Facebook tends to tweak their interface from time to time so the menu may not be in the same spot as is shown here, but just look for the "Marketplace" icon.
Step 4: Click On The Selling Button In Facebook Marketplace
On the smart phone, the Selling button is typically on the topleft corner of your Marketplace page.
On the desktop computer, the Selling Button would be in the menu on the far left side.
The following shows a screenshot of what it looks like on mobile.
Step 5: Click On The "Create New Listing" Button
Within the Selling page, there's a "Create New Listing" button at the top of the page.
Note that for Desktop users, the "+Create New Listing" button is in the same menu as the "Selling" link (so you don't have to go into the Selling page to create a new listing if you don't want to).
The following screenshot shows what it looks like on your smart phone.
Step 6: Answer The Prompts On Your Item For Sale
Facebook Marketplace will then prompt you to fill in various fields regarding your item for sale.
If you're on a desktop computer, it also gives you a real-time preview of what the listing will look like as shown below.
On a mobile phone, the Item for Sale page might have you go through different pages due to the limited screen sizes.
For example, it might start off asking you to pick a category like so…
Regardless of what computing platform you're on, you can see that Facebook Marketplace prompts you to add information concerning your product.
Such information includes things like:
Photos (naturally, you'll want to show people what you're trying to sell them)
Title (to grab attention given our increasingly short attention spans)
Price (you get to pick how much you're willing to sell the item for)
Category (you'll want to make sure you choose the right category; e.g. don't pick clothing if you're selling a car)
Condition (be honest and accurate with this to maintain your reputation)
Description (provide as much detail as you can about the item you're trying to sell)
As you go through filling out the rest of the requested information about the item, Facebook Marketplace also gives you the ability to choose privacy settings.
You may want to do this in the event you don't want your friends to know about what you're selling.
Really, this is the only step you need to do to be able to start selling on Facebook (as all preceding steps concerned account setup and navigation).
The vast majority of people have Facebook accounts, but even if you're not into social networking using this platform, you don't have to be an active Facebook member to sell stuff through Facebook Marketplace.
Step 7: Setup A PayPal Account
To receive money for shipped items, you'll want to set up a PayPal Account, which Facebook Marketplace also prompts you to do.
We generally prefer receiving payments on Facebook Marketplace via PayPal because you get paid up front and you don't have to worry about cash being fake or people flaking out on you (since they paid already).
Being able to receive PayPal payments and shipping items give you the ability to sell outside your local area, which widens the pool of prospective buyers.
Without this, you can still meet your buyer and collect cash in person in exchange for the thing you're selling.
However, for the seller, having to set up the meeting and making time for that meeting (including figuring out schedules) can be time consuming as well as full of uncertainty.
As a buyer, there are some protections (against blatant fraud or misuse of the platform), but generally, all Facebook Marketplace sales are final.
In any case, getting your PayPal Account set up just makes your life (as well as those who are buying from you) easier.
The only caveat to this convenience is that PayPal does charge a fee for money exchanged on their platform.
These rates frequently change so it's better that I provide you a link to their transaction rates.
Step 8: Wait For The Sale & Complete The Sale
Once your item is listed, you now have to wait for someone to buy the item.
During this time, you'll want to make sure to respond quickly to questions that people may have about the item.
Not only does this help the potential buyer, but it also assures that person that you are a real person (and a trustworthy one at that).
Now, if the item is not selling, then you have some decisions to make.
Should you drop the price and put it back out on Facebook Marketplace?
Or should you not waste any more time on it and just donate it to Goodwill or other charity for a possible tax deduction?
That said, if someone does end up buying the item, then you'll want to quickly complete the sale by shipping the product (if it's not a local buyer).
My wife usually uses the US Postal Service, but for more delicate items or things needing to be express shipped, then we might use UPS or Fedex.
Of course, if it's a less formal local pick-up arrangement, then you'll want to communicate with your buyer about a meeting place and get all those logistics worked out.
We've met buyers in public shopping areas, the public library, and the police station, all of which have a parking area where you can make the exchange.
It's generally a good idea to meet in a public place for your own privacy as well as protection.
You just never know what kind of crazies that might be out there, and it's better to make it a habit to do this for your piece of mind.
The only times we've had people show up to our place to pick up an item is if the item was so big that it wasn't practical for us to stuff it in our small cars (and potentially damage it) only to meet in a public place.
How To Make Your Listing More Attractive?
It goes without saying that while you can go through the motions and mechanically get your item listed on Facebook Marketplace as demonstrated above, there's still a people element to this.
That's where you'll want to make your Facebook Marketplace (or any online marketplace platform) listing as attractive as possible to…
Get The Buyer's Attention
Get The Buyer's Assurance That You Can Be Trusted
The bottom line is that you'll want your listing to look serious and less amateur, and that's one way you can stand out from other people who may be selling similar items.
It might also allow you to command a little bit more money for your stuff if they look attractive to your buyer.
Typically, the market will dictate whether you've done enough with your selling efforts.
For example, sometimes things don't move because perhaps the listing needs a tweak in the description or some different photos showing the item a bit better.
Maybe the item wasn't cleaned very well so it comes across as run down and defective to the buyer.
Whatever the decision, it's up to you on how much the item is worth as well as how much time you want to put into making this sale.
Nevertheless, you can get creative with your setup, but realize that sometimes you'll have to spend money to get money.
In my wife's case, she actually bought some lighting and staging, which were originally to take food pictures.
But she realized that she could repurpose that same setup for selling items on Facebook Marketplace.
Similarly, she actually spent money on a mannequin so it can model clothing (since we had lots of them to sell).
This really shows her prospective buyers how the clothing would look when worn.
After all, the clothing stores you see in the mall do it, so why not apply the same principle here?
Anyways, these are just a couple of ideas you may want to try out to get some money out of the stuff you don't want anymore.
I'm sure there are other creative ways to entice your buyer that we haven't even thought of!
Is Facebook Marketplace A Good Side Hustle?
Some people actually do pretty well with Facebook Marketplace, but they're all-in on getting goods on the cheap from China or other country that can provide items on the cheap, which can then be marked up for profit.
However, that is not likely to be a side hustle because you have to commit to investment capital to buy up the inventory up front, and then you have the pressure to clear that stock or else have your money tied up in that inventory.
Then, there are people who buy up hot-selling products at Walmart or Target or other vendor (as opposed to direct from the manufacturer or distributor) and then mark it up in Facebook Marketplace.
It happened with LOL dolls (remember those?), and some people did make a good profit out of it riding that wave.
That said, if you do engage in that, you're taking a risk that you predicted the demand accurately, because you could be out a lot of money if your prediction was incorrect and you have unwanted inventory on your hands that you paid upfront for.
Nevertheless, as far as our usage of Facebook Marketplace, we're basically trying to make back some money from the used goods that we don't want anymore.
So in that sense, it's not really a true side hustle because we're not really making an income since you can never make back the original cost that you paid for it (unless it's a rare collectible item that was never used).
Now, if you do have connections and you're able to legitimately side hustle with Facebook Marketplace…
procuring items on the cheap that you can mark up
successfully consigning and selling on someone else's behalf
dropshipping
etc.
… then you may want to consider creating demand for your products by writing a blog related to such items.
Granted, it takes time to build up an audience for your blog, but if you know a lot about the products you're selling or they're related to something you're passionate about, it may be worth your time to pursue!
In fact, you might even be able to diversify your income stream on things like advertising revenue as well as affiliate marketing with your blog (in addition to funneling traffic towards your Facebook Marketplace business).
Now, if you do pursue this avenue, the fastest and most reputable way that I know of that can get you up and running (as well as educated on how to efficiently do this) is by using an all-in-one hosting and education platform.
There's training and classes on there as well as an active, pay-it-forward community to help steer you in the right direction with specific and actionable tasks so you shouldn't have to guess what you need to do next.
Conclusion
As you can see, Facebook Marketplace is a pretty easy way to sell unwanted stuff to declutter your home without the kind of fees you'd get hit with on say an Ebay or Amazon.
Moreover, it's also possible to leverage the qualified buyers and sellers with Facebook profiles to establish trust in a more lucrative Facebook online business or side hustle selling new stuff as well as other peoples' stuff.
That said, I've seen how much time my wife has put into listing items and then coordinating to complete the transaction – whether it's meeting people at a public place (who may or may not flake out) or taking pictures and testing out prices.
And this is just for decluttering our home with the fallback option of sending non-selling used items to Goodwill or other charity!
Even if you do find a way to make some money off dropshipping or new product markups, given the amount of time spent on this venture (and risk since you're paying out of pocket for such goods), will you get sick of doing it pretty quick?
Will it become a major chore?
Are you going to blog to drive traffic and more attention to the products you're under pressure to sell as your inventory ties up your cash?
Indeed, it's debatable whether selling items on Facebook Marketplace is a true side hustle.
It's for reasons like this that I'd personally rather spend my time and effort on matters that I'm passionate about.
And while selling stuff generally doesn't do it for myself (nor my wife, as I'd imagine it doesn't for most people), that's why I personally find it more rewarding to blog about topics I'm passionate about as a better side hustle.
Granted, it's slow income, but it's sustainable and it accumulates over time, especially if it's a labor of love.
The only thing that would keep you back from getting into blogging as a side hustle would be…
your sweat equity (i.e. your time and energy)
getting educated on how to blog and monetize effectively
getting the resources to set up, write content, and publish that blog
Fortunately, with an all-in-one blogging platform, you'll have everything you need except your own sweat equity (which is why I advocate that this blog revolve around your passion).
Heck, maybe your blog can be leveraged to help your Facebook Marketplace ecommerce business or it can take you in other positive directions that you didn't see coming!
Who knows where that blog can take you? But you'll never know if you don't try!
Learn more about my preferred blogging platform, which is that all-in-one blogging platform that allows me to engage in my passions as a side business!
I hope you found this article helpful.
If you have questions or comments, please leave them below.