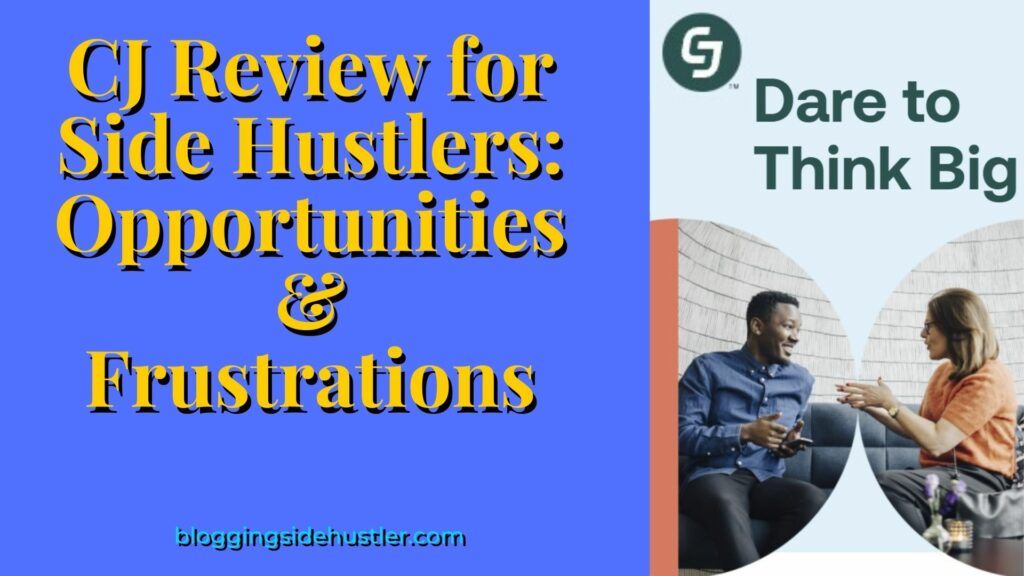 In this CJ Review for Side Hustlers, I'm sharing my experiences (going back to around 2008-2009) with this affiliate marketing network. More importantly, I answer the question whether CJ Affiliate is a waste of time, for publishers.
While I have been a long time member, I have had a rather polarizing and rocky tenure – all of which wisened me up regarding how to work with them. Although there were a myriad of opportunities, I've also had to contend with lost commissions (including the dreaded dormant account fee) and plenty of growing pains.
So let's get right into my story with CJ Affiliate (formerly Commission Junction) so you can leverage my lessons learned as a resource for your affiliate marketing side hustles…
What Is The CJ Affiliate Program About?
CJ is an affiliate network company or online advertising agency connecting merchants with publishers.
Founded in 1998 in Santa Barbara, CA, the company is one of the pioneers in the affiliate web marketing space, and is certainly one of the largest affiliate marketing companies in existence.
If you're getting into affiliate marketing as a side hustle, chances are that you've heard of or even worked with merchants who have a relationship with CJ.
It has gone by numerous names in the past, but it's currently CJ.com or CJ Affiliate, where the acronym stands for Commission Junction.
Anyways, when I mention merchants in the affiliate marketing context, I'm talking about companies and/or brands with a product or service to sell.
By publishers, I'm talking about content providers such as influencers, personalities, bloggers, marketers, writers, etc.
Thus, CJ acts as sort of the common middle ground between the merchant and publisher trying to create a win-win for both sides.
This is where the publisher might bring greater exposure to the merchant through the publisher's content while the publisher gets a commission if such exposure led to a sale.
Who Is CJ For?
I view CJ Affiliate as working for two types of entities in the online affiliate marketing industry.
First and foremost, they represent a variety of merchants wishing to simplify their lives by only dealing with CJ to manage all the affiliate links, various marketer accounts, commission payments, account policies, cookies, etc.
The merchants may find this preferable over dealing with each publisher and the potential headaches associated with that.
Among the merchants that they represent, they can be larger companies with recognizable name brands like Barnes & Noble, J. Crew, Dell, Office Depot, IHG, TurboTax, Overstock, etc.
They also represent (or used to represent) companies whose products and services that we've personally used like Sucuri, MalwareBytes, Auto Europe, Costco, Allianz Travel Insurance, Expedia, Rentalcars.com, Booking.com, etc.
So this ad network really does span a wide variety of industries, and it's one of the main reasons why CJ is so well-known in affiliate marketing.
As far as the publishing side, CJ provides sort of a one-stop shop for content providers looking to partner up with merchants seeking to reach their target audience.
This can save time and headaches for publishers trying to establish relationships individually with each merchant or affiliate, which can be both time consuming and burdensome as the number of affiliations grows.
At least in theory, this is how it's supposed to happen, but in reality, I've discovered that you really have to be both established and proficient at affiliate marketing to benefit from CJ.
As you'll see, they really don't cater small time content providers, especially those new to making money online.
Indeed, new bloggers or publishers typically find themselves trying to figure out how to walk that fine line between being an authority versus undermining it by being a shill (i.e. someone with a vested interest in a product or service they're touting).
How Is The CJ User Experience?
Since we're looking to monetize through blogging as a side hustle and I don't have an explicit product or service to sell per se (besides souvenirs or keepsakes to support my websites), I'll describe the CJ user experience from a publisher's point-of-view.
Applications Upon Applications
First, you have to apply to be part of the CJ Affiliate Network, which pretty much involves convincing the company that you're serious about being active as a participant and that you have a credible track record of attracting an audience.
Once you get through this onboarding process and fulfill the setup tasks that they require of you, you're now able to get into the CJ Dashboard, which is where you can seek out merchants, check reports, get affiliate links, contact support, etc.
By the way, even when you're accepted into the CJ Affiliate Network, your job still isn't done yet because you then have to reach out to participating merchants and apply for their individual programs.
Only once the individual merchant with the affiliate program through CJ accepts your application can you then get an affiliate link with a tracking cookie to your account that you can put into your website's content.
To help find merchants, they provide some at-a-glance information on the dashboard as well as more in-depth information concerning their earnings per click (EPC), referral period (or cookie duration), commission amount or percentage, merchange service area, and more.
Since CJ represents such a large number of companies, I've found that can be a bit overwhelming to use their search query dialogs to find what I needed quickly.
Sometimes, merchants reach out to you for partnerships though I've found that more often than not, they're not relevant to my website's niche.
Moreover, even this application process with individual merchants can be cumbersome because they often don't respond for months before an acceptance or rejection, which can really put your content about that merchant in limbo.
Case in point, we were recently accepted Travel Guard after about 4 months since we applied to their program.
Conversely, all rejected applications that I've seen are form letters with no rationale for why you're not accepted so you're always left guessing.
Applying Affiliate Links
Now assuming that my application has been accepted with a merchant (not a guaranteed thing, mind you), my next task was to hunt through a series of links and banners that I might be able to use to insert into my blog or website.
Unfortunately, their system is so antiquated and inflexible that I've found this experience to be a bit like finding a needle in a haystack.
For example, I've found it difficult to "deep link" (basically a text link) to a merchant's web page of my choosing for better flow of relevancy in my content.
Instead, I'd have to settle for whatever links that were already provided.
Since most of the text links in the menu tend to go to the same destination pages, I've found this to clutter the interface when they all could have been condensed into a single web address entry and leaving the link text up to me.
Although CJ's support pages claim that I could customize their pre-existing text-based deep links, I think they really only mean the text to be linked and not the actual web address (or URL) itself.
This ability (or lack thereof) to link to a merchant's web page has really made my conversions on CJ suffer compared to how my affiliate links from direct affiliates as well as competing ad networks have been generated and utilized.
For example, I've had a better user experience with a competing ad network like AvantLink, where its system let me generate a tracking link to any page that I was targeting.
In the case of say REI (of which I'm an affiliate partner with them through AvantLink), I was even able to link to the company's useful tutorials and buying guides as opposed to just sales pages with shopping carts.
Even though I've converted and gained some commissions through CJ, it wasn't nearly as successful as say my campaigns with AvantLink, Awin, or even some direct affiliations with merchants without an ad network.
How Much & How Often Does CJ Pay Commissions?
CJ generally has a transparent and systematic payout schedule where commissions can be paid out as soon as a month after the month that the sale was made and the commission earned.
However, this is contingent on a number of things – some of them merchant-related and others CJ-related.
While there may be nothing you can do about merchant-related delays (as it depends on their chosen "locking method"), there are some things to be aware of regarding the CJ-induced complications to commissions payouts.
By the way, "locking" is merely a term for a payout schedule where commissions are "locked in" on particular dates (typically once or twice a month) before becoming eligible for payout.
Payout Conditions Related To CJ
Now the first thing to be aware of concerning how CJ pays its commissions is that you, the publisher, must have accumulated enough commissions to be eligible for payout.
They call this the "minimum payout amount" (or threshold amount), which defaults to the minimum amount of $50 (though I suppose you can go into your administrative settings to change the amount to be something higher).
The next thing to worry about is that if commissions are sitting in your account without having crossed the threshold for a payout, then there's a chance that such earned commissions can diminish.
This has happened to me, and after doing some clicking around in the balance report, I came upon the reason for the lost commissions as the "dormant account fee".
This dormancy fee is basically a punitive fee where they deduct $10 per month for as long as the account is deemed to be dormant or delinquent.
The problem with this dormancy fee is that this account status happens without warning, and there's no concrete criteria in writing on how an account is deemed to be dormant in the first place.
In addition to the dormancy status, all prior established relationships are lost and have to be re-established (and often times vendors that have approved us previously won't do re-approve the second time).
As a result of this restrictive policy in CJ's system, I have never been paid for any commissions that I have earned in my years of working with them.
This is something that I don't have problems with concerning direct affiliates like Booking.com or competing ad networks like AvantLink Affiliate Network.
How To Avoid Losses From CJ's Dormant Account Fees
So indeed, in order stay in CJ's good graces, you'll have to remember to log in frequently, but more importantly, you'll have to earn commissions at a rate of something nonzero in any 6-month window.
Indeed, that's a lot of pressure on the publisher to keep earning commissions possibly at the expense of compromising the quality of the content.
This is pretty high maintenance on publishers working with CJ to remain a viable affiliate networking partner with them, and it's a major reason why I'd rather avoid CJ as much as I can.
After all, if we're side hustling, we can easily get pulled in many directions, which conspire to make us forget about spending so much energy into CJ to avoid the dormant account fee as well as its myriad of consequences for not doing so!
Nevertheless, there are merchants (whose products and services that we've used and I wouldn't mind endorsing) that deal exclusively with CJ, and for those instances, I'd have to put up with CJ's punitive and restrictive policies.
Indeed, having had better experiences with other affiliate networks like AvantLink or directly with merchants like Booking.com, I'd much rather do that and only go through CJ if I absolutely have to.
Apparently, my experience is not unique because I've seen similar consequences to other publishers on TrustPilot, BBB, and other review sites.
Some of these publishers even earned more commissions than my World of Waterfalls website, which makes me wonder just how stable my earned commissions through CJ really are until I hit the threshold and get the payout.
Then again, there are others who have been using CJ without issue though perhaps those people who are on their good graces are simply good at affiliate marketing (especially persuading people to act in such a way that they get frequent conversions).
Well, at least I now know to only ask for vendor relationships when I'm ready to write a review about them and/or a buying guide that includes them.
How Is CJ's Support?
As far as support is concerned, there are some generic articles in the support section of the CJ.com dashboard, which they claim should answer the majority of inquiries.
However, I personally haven't found them to be helpful since most of those articles state the obvious.
That said, there is a client support phone number you can call (you do have to find it though) as well as a contact form for eliciting an email response.
Although we have gotten responses to our inquiries for mostly menial and administrative questions that we've had, it's the stickier ones that have either gone ignored or answered without actually answering the question.
One of the stickier questions that I've approached them with was the dormant account fee, which went unanswered for nearly 2 months until I got a response pointing to the fine print about the punitive policies that I explained above (which was in part informed by this support response that eventually came).
Over a similar 2-month no-response period, I also inquired about suspending the account to avoid losing relationships with vendors due to the dormancy status, but I learned well after-the-fact that this is not allowed either.
Anyways, there have also been frequent complaints on TrustPilot concerning very slow or nonexistent support, and I guess my experiences here kind of corroborated that.
Indeed, it really does feel like support is an afterthought on the CJ system, and I certainly get the sense that smaller publishers are really on their own, especially if they're not affiliate marketing veterans.
Final Thoughts / Conclusion
Even though CJ Affiliate is one of the largest affiliate networks in existence and had pioneered the affiliate marketing space when the internet as a whole was just starting out, it's definitely a network that publishers should approach with caution.
In my experience, CJ is only beneficial if you're an established affiliate marketer fostering an existing ongoing relationship with the network and/or you've done well with specific merchants who exclusively work through CJ.
If you're starting out or you haven't been paid much through their program, you may be better off looking for alternate afiiliate networks or just trying to establish a relationship directly with the merchant.
As evidenced by me never having been paid any commissions in my history with them (since 2008-2009) whereas I have been paid by other affiliates (e.g. AvantLink) in this span, that kind of shows you how frustrating dealing with CJ can be.
Indeed, as a result of the poor user interface, poor pre-canned affiliate links, punitive policies, and the seemingly nonresponsive (or at least slow-to-respond) support, I'm not very keen on using CJ unless I'm forced to.
For alternative affiliate networks to CJ, my preferred affiliate marketing platform is Wealthy Affiliate.
They provide a search where you can find a brand that you can partner with along that brand's affiliate network affiliations.
I encourage you to learn more about this platform by signing up for a free test drive to facilitate your search for CJ alternatives.
Click here to learn more about Wealthy Affiliate.
That concludes this CJ Review. What do you think about what I've said here?
Please leave your comments below. I'm keen to see if I should give them another chance.